Sonic Seven featuring Sax 'n Soul is a perfect combination of a DJ and live saxophone sound. This long-standing and successful collaboration between the experienced event and club DJ "Sonic Seven" and the veteran band and solo saxophonist "Ingo Beer" is an awesome act for your event.
No matter whether it is a corporate event, wedding, clubbing or party, if you want to experience live music in combination with DJ sound, we are the right choice!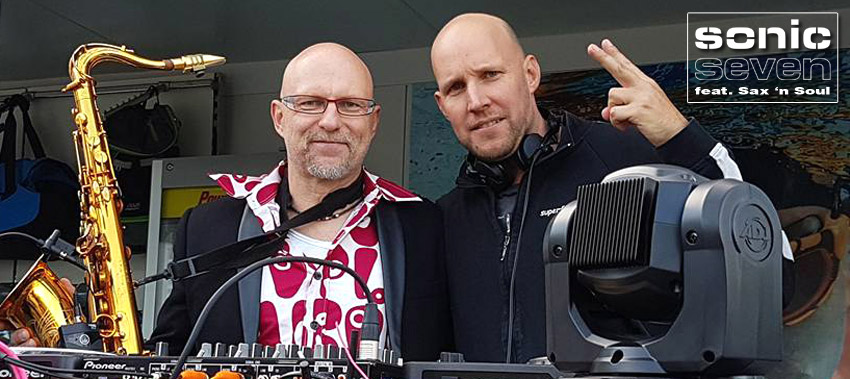 Sonic Seven from Vienna has over 20 years experience in clubs, parties and coperate events. Privilege Ibiza, Pacha Sharm El Sheik, Pacha Mallorca, Sziget Festival Budapest and Street Parade Zurich are on his booking list.
Ingo Beer (SAX 'N SOUL) from Klosterneuburg in Lower Austria has been playing the tenor saxophone for over 25 years. He is also a member of the Pink Floyd tribute band called the "Floyd Division".
This email address is being protected from spambots. You need JavaScript enabled to view it.
---
Sonic Seven feat. Sax 'n Soul
Supermax feat. Sax 'n Soul - Love Machine (Sonic Seven Remix):
Deep House live @ Ibiza Dinnerclub:
live @ Uferhaus:
---
Sonic Seven f. Sax 'n Soul Videos:
---
Some references to our partners:
Ritz-Carlton Vienna
Juwel Wien
Lamée Rooftop
Barracuda Resort
Carl Zeiss AG (Switzerland)
Erste Group Bank AG
Incepto Medical
Weingut Hillinger
Palais Coburg
Café Leopold
Casino Baden
Casino Salzburg
Wolke 21
Lusthaus Vienna
MS Schoenbrunn (steamboat)
Golfclub Schoenfeld
Stiftskeller Klosterneuburg
Salonplafond im MAK
Palais Kinsky
Uferhaus Klosterneuburg
Uptown Klosterneuburg
Paradise Magazin
Oberhammer Rechtsanwaelte
Freshfields Bruckhaus Deringer
Jet Aviation
Volkskundemuseum
Vienna Ballhaus
Kursalon Moedling
Palais Schoenburg
Palais Auersperg
Weingut Liszt
Weingut Fischer
Weingut
Cursaal St. Radegund
Spitzvilla Traunsee
Eggerhaus
Mocarello
Freyung 4
---
Book DJ and Live Saxophonist in Vienna ★ Austria ★ Europe:
This email address is being protected from spambots. You need JavaScript enabled to view it.